Search
Delivery Info
Fast Service
only £4.95+vat*
Click here for more details
(£25.00 Min. Order)
Free delivery on all orders over £50.00 + VAT
Bookmark Us
Click here to add us to your favourites.
Welcome to The Nail Company

. Established for over 25 years in supplying the Nail & Beauty Professional TRADE ONLY. The Nail Company offers a fast, friendly and efficient service setting us aside from our competitors. Call us on 01932 851505 To shop or browse our departments online Click here
New Products
Salon System Omniwax Hybrid Wax Sherbert 425g
ref: SS0202234
MORE INFO
Price - £8.25


(ex VAT)
Cuccio MatchMaker Femme Fatale
ref: CCV6409-LED-M
MORE INFO
Price - £12.50


(ex VAT)
Best Selling Products
Economy Nail Wipes 200pk
ref: NCNW200
MORE INFO
Price - £1.95


(ex VAT)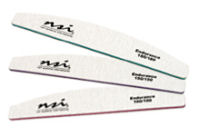 NSI Dura-File 100/100grit (Pink) 10pk
ref: NSI3641
MORE INFO
Price - £8.75


(ex VAT)
Special Offers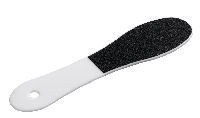 The EDGE Pedipad'l Foot File PROMO
3 For The Price of 2 SAVE £0.95 + VAT- See ALL EDGE Offers HERE
More info
Salonsystem Eyelash Dye Blue-Black, Brown or Black Twin Pack PROMO
2 x 15ml Saving £2.25 on normal price
More info
Cuccio Naturale Pedicure Salt Soaks 29oz HERO OFFER
Great product - give it a try while it's on the trial price offer! £9.99 + VAT Normally £14.99
More info
Salon System Just Wax Soft Wax, Tea Tree & Pink Creme Wax 450g 3 FOR 2
EACH PROMOTIONAL PACK CONTAINS 1 FREE POT.
More info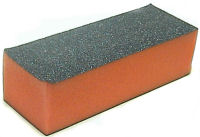 10pk Orange, Blue or Purple Sanding Blocks 3 for 2
Buy 2 Packs & Get 3rd Pack FREE Mix or Match SAVE £3.42 + VAT
More info
Salonsystem Short or Medium Black Flare Individual Lashes 6 FOR 4
GREAT VALUE PACK - SAVE £6.30 + VAT
More info
IBD Just Gel Polishes New Lower Price
To celebrate one million bottles sold! NOW ONLY £9.50 + VAT See the NEW Bring Back the Favourites 2016

More info
Star Nails Nail Art Pens 33% OFF
NORMALLY £3.25 PLUS VAT NOW ONLY £2.17 PLUS VAT.
More info
Marvellash Russian Lash Kit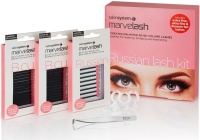 Marvellash Russian lash is the lastest trend to hit the extension market to create soft finish, full voume lashes. A perfect starter kit. Contains everything needed for Russian volume layering, multi-lash feathering and 3D/6D techniques.Kit contains: EXTRA Fine Lashes B Curl 0.07, ULTRA Fine Lashes B Curl 0.05, Russian 3D Fan Lashes, Angled Tweezers, Glue Rings
Click here to see all Eye products
NEW Just Gel Bring Back the Favourites!
IBD Just Gel - Bringing back the Fav's the best selling shades of past collections. Featured here are Midnight Martini's - A dazzling deep purple colour with lovely glitter. Dockside Diva -A light beige creme. Patchwork - A grey, purple shade with a crème finish. Bella Boudoir - The colour is a lovely velvety purple. ALL BEST SELLERS! - BRING BACK THE FAVOURITES! All Just Gel bottles now reduced in price only £9.50 + VAT More Info
Attitude Polish Bohemian Chic Collection
Introducing 7 Attitude Lacquers - The NEW Bohemian Chic Collection - Whether you want to rock Glastonbury or dance under the sun at Coachella The Bohemian Chic Collection has the perfect shade for you! Isle of Wight -Dip into the coastal waters with azure blue. Bestival Keep festival cool with this shade of pistachio ice-cream. Woodstock Become part of la boheme and go beautifully nude. We dare you. Coachella Nail it like an a-lister and be transported to sunny California with trendy peach-pink. Glastonbury Rock 'n' rave it with fun and vibrant crimson. V Festival Make it POP like Britney Spears circa 90s with sizzling silver. Mardi Gras Dance, dance, dance away in a pretty purple haze. More Info
NEW! Cuccio Colour Cruise Spring Collection 2016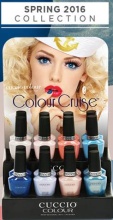 All hands on deck as we set sail on the maiden voyage of the SS Cuccio Colour Cruise Collection. A natural inspired collection of modern Spring shades guaranteed to help you navigate the changing tides of the current styles and fashion in 2016. Ride this wave of glowing, illuminating shades on what we like to call the Love Boat of Colour. All colours also available in matching Veneer LED/UV Colour & MatchMakers. More Info