Search
Delivery Info
Fast Service
only £4.95+vat*
Click here for more details
(£25.00 Min. Order)
Free delivery on all orders over £50.00 + VAT
Bookmark Us
Click here to add us to your favourites.
Welcome to The Nail Company

. Established for over 25 years in supplying the Nail & Beauty Professional TRADE ONLY. The Nail Company offers a fast, friendly and efficient service setting us aside from our competitors. Call us on 01932 851505 To shop or browse our departments online Click here
New Products
IBD Just Gel Polish Holiday Blues 0.5oz
ref: IE838
MORE INFO
Price - £9.50


(ex VAT)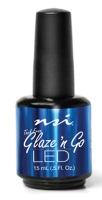 NEW NSI Glaze N Go LED 15ml
ref: NSI5307
MORE INFO
Price - £16.95


(ex VAT)
Best Selling Products
Salon System 250ml Profile Nail/File Antiseptic Spray
ref: SS0212133
MORE INFO
Price - £4.10


(ex VAT)
Cuccio UV Sculpting Gel Clear 28g
ref: C15101
MORE INFO
Price - £12.99


(ex VAT)
Special Offers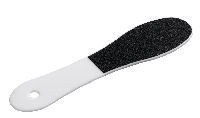 The EDGE Pedipad'l Foot File PROMO
3 For The Price of 2 SAVE £0.95 + VAT- See ALL EDGE Offers HERE
More info
NSI Attraction Liquid 32oz & FREE Royal Precision Brush.
FREE Fabulous Royal Precision Acrylic Brush SAVE: £28.80 + VAT
More info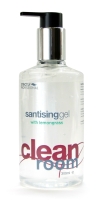 Strictly Professional Sanitising Gel with Lemongrass 300ml 25% OFF
Offer Price £2.36 - Normal Price £3.15. BEST SELLER!
More info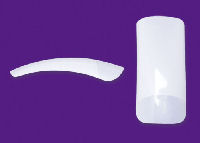 33% OFF Selected Cuccio Nail Tips
Ultrawear, French White, Revelation & C Curve in 50pk, Masterpacks & 100 Assorted. All 33% OFF - Better Stock Up NOW!
More info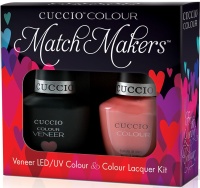 Cuccio Veneers & MatchMakers - New Lower Price
SEE ALL THE CUCCIO OFFERS HERE!
More info
Salonsystem Short or Medium Black Flare Individual Lashes 6 FOR 4
GREAT VALUE PACK - SAVE £6.30 + VAT
More info
IBD Just Gel Polishes New Lower Price
To celebrate one million bottles sold! NOW ONLY £9.50 + VAT See the NEW Urban Edge Collection 2016

More info
NEW LOWER PRICES on LashFX Trays & Pots + 4 for 3 on LashFX Pots
Buy 3 x LashFX Pots & Get the 4th Free (Mix & Match) SAVE £12.95 + VAT
More info
Attitude Polish Bohemian Chic Collection
Introducing 7 Attitude Lacquers - The NEW Bohemian Chic Collection - Whether you want to rock Glastonbury or dance under the sun at Coachella The Bohemian Chic Collection has the perfect shade for you! Isle of Wight -Dip into the coastal waters with azure blue. Bestival Keep festival cool with this shade of pistachio ice-cream. Woodstock Become part of la boheme and go beautifully nude. We dare you. Coachella Nail it like an a-lister and be transported to sunny California with trendy peach-pink. Glastonbury Rock 'n' rave it with fun and vibrant crimson. V Festival Make it POP like Britney Spears circa 90s with sizzling silver. Mardi Gras Dance, dance, dance away in a pretty purple haze. More Info
Marvellash Russian Lash Kit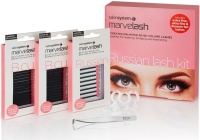 Marvellash Russian lash is the lastest trend to hit the extension market to create soft finish, full voume lashes. A perfect starter kit. Contains everything needed for Russian volume layering, multi-lash feathering and 3D/6D techniques.Kit contains: EXTRA Fine Lashes B Curl 0.07, ULTRA Fine Lashes B Curl 0.05, Russian 3D Fan Lashes, Angled Tweezers, Glue Rings
Click here to see all Eye products
NEW Just Gel Island of Eden
IBD Just Gel - JUST IN - "Island of Eden Collection" Limited edition! - Hurry they will sell fast!
Featuring 4 high shine shimmers and 4 rich crème shades in our long-last high shine formula; Coco-Nuts-For-You- a sandy nude with light shimmer, Dip Your Toes a golden shimmer shade, Bronze Me Up a bold shimmer bronze, Need a Vacay from my Vacay a shimmery red orange shade, TOP-tional a pinky-red rich crème, Passport to Purple a super rich purple crème, Post Holiday Blues a bright crème blue and Just Keep Swimmin' a crisp blue green crème shade - ALL JUST GEL BOTTLES NOW ON CELEBRATION PRICE OF ONLY £9.50 + VAT More Info
NEW! Cuccio Colour Cruise Spring Collection 2016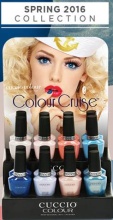 All hands on deck as we set sail on the maiden voyage of the SS Cuccio Colour Cruise Collection. A natural inspired collection of modern Spring shades guaranteed to help you navigate the changing tides of the current styles and fashion in 2016. Ride this wave of glowing, illuminating shades on what we like to call the Love Boat of Colour. All colours also available in matching Veneer LED/UV Colour & MatchMakers. More Info