PERFECT FOR ALL Skin Types!
This autumn, the Strictly Professional Face Mask Starter Kit packaging has been modernised with a fresh, updated new look! The kit contains professional quality SP Skincare powders, flower waters and toners to create a tailored face mask blend that can help to soothe and diminish everyday skin concerns for a diversity of skin types including dry autumn skin, oily spot and blemish prone skin and sensitive skin.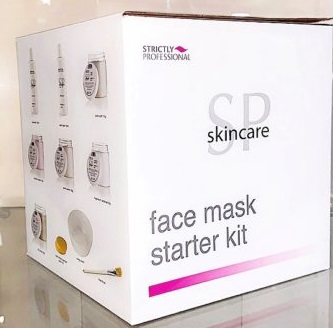 Ever woken up and had blotchy red skin? Unwanted pimples or whiteheads? Dry patches? We can all agree there is nothing more terrifying than feeling out of control of your skin's health and aesthetic. The Strictly Professional Face Mask Starter Kit provides the perfect ingredients.
Witch Hazel & Fullers Earth work together effectively to battle skin irritation, help fight acne pimples and treat oily skin. These pair are known as 'oil absorbers' and are renowned for their anti-inflammation properties. Calamine Powder contributes many factors, mainly aiding in lightening dark spots or uneven skin tone and hydrating the face (resulting in an over-all improved complexion and texture to the skin). Lastly Kaolin which acts as a natural detoxifier and exfoliator which is great for removal of dead and dry skin.