Delivery Info
Fast Service
only £5.00+vat*
Click here for more details
(£25.00 Min. Order)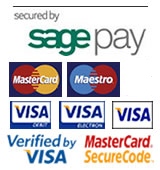 Bookmark Us
Click here to add us to your favourites.
Nail Paints - Air Brushing
The item was successfully added to cart - click here to view cart.
Medea Airbrush Paints Set 11 x 15ml NEW SIZE!
ref: NATE1009

Trade Price: £20.21

(£24.25 Including VAT at 20%)

Please wait while your shopping cart is updated...

< Continue Shopping
Full product information
Great start up pack. Medea Nail Colours are fast-drying colours specially formulated for airbrushing nail art as part of Medea's highly reputed nail art system. The colours are ready to go through an airbrush and are low viscosity, allowing you to use them in the finest airbrushes. Nail artists who have experienced clogging with other brands of paint have said that their problems were solved by switching to Medea colours. This set includes ten Medea Nail Art Colours (15ml), along with a Medea sealer varnish to seal and protect your design, before applying Top Coat. You can effectively double the range of colours in this set by using the Pearlescent Additive to make each colour into a pearlescent colour. Medea Airbrush Paints Set 11 x 15ml NEW SIZE!